This post may contain affiliate links. Please read my disclosure.
Hot Garlic Air Fryer Chicken Wings is the perfect, healthy game day food with tons of heat and flavor. The chicken wings get super crispy in the air fryer, and will completely ruin you for ordering takeout wings ever again!
Garlic buffalo wings are one of me and my husband's favorite things to eat on a Friday night with a couple of cold beers. They go perfect together!
We discovered that we absolutely loved the combo of the hot buffalo sauce with fresh minced garlic tossed in. Most restaurants don't have this on their menu, but we haven't found any that are unwilling to make them for us. It's similar to Buffalo Wild Wings Spicy Garlic sauce, but this has actual minced fresh garlic.
So the recipe begins when last year (2018) I got an air fryer for Christmas. All year long I've experimented and have been cooking anything and everything in that thing! The chicken wings got their turn one day, and I was honestly blown away! They are SO, SO crispy, which is how I love my wings. I need the skin to be crispy. Soggy chicken skin is not for me!
My whole family was instantly hooked, and we were making them 2-3 times a week, with all different sauces and seasonings.
The new problem that happened with doing this, is now we think all of the ones out at restaurants can't even come close to our own chicken wings. Kind of a good thing, and kind of a bad thing. No more Friday night wings, but I guess I do love to save some money!
Buying the right cut Of chicken
Buying the right kind of chicken is also vital to getting better-than-takeout wings. My first go at our grocery store, Publix, which I love, didn't result in what I wanted, but it was ok.
As I was searching and searching through all of the chicken cuts available, I COULD NOT find the same type of flats and drummies you get in the restaurants. I did find a package of just drummies, but I wanted both. My husband eats only drums and I eat only flats. I was so confused as why there were only drums and no flats.
So I settled on a package of full chicken wings. The drums and the flats are actually full chicken wings that are broken apart. I took them home and cut them myself. It's pretty easy, but not fun, and is a bit time consuming.
Separating the wings into flats and drums
To separate the flat from the drum, you grab the wing with both hands and bend the joint backwards, until it makes a snapping noise. Then you can feel where the joint is in the middle with your fingers. That is where you put the knife and cut down HARD. Now you have a flat and a drum! I also like to cut the pointy tip off of the flat, which is also how they are served in restaurants.
There is an excellent post here that goes into detail about how to do this with pictures. I'm a picture person, so this may help if you are too.
The better way to purchase chicken wings
I was still on the search for already separated wings. Even though it's easy enough, I just don't like to do it. I went back to my beloved Publix. I was hoping maybe they were just out of the flats when I went the first time. Nope. Same ol' situation.
I sadly picked up the package of chicken wings again, but I happened to run into one of the butchers as he was out stocking meat. I asked him about the flats/drummies situation. Why can I always find drummies and no flats? He says they only sell the drummies. ??? I didn't think to ask him at the time, but what do they do with the flats? Throw them away?
He then proceeded to tell me that he would gladly separate my package of chicken wings, with tips removed also. Just go finish your shopping and come back and they will be ready for you! Really?!?! This is another reason why I love Publix!
How we purchase our wings now
Even though I do love Publix, our new wing obsession was getting a bit costly and I was still searching for something better. Enter Costco.
We found a 10 pound bag of frozen wings, already broken down. They were also close to half the price of getting them at Publix. Win!
How to thaw frozen chicken wings
If you are a planner and on top of things, you can place some of the wings in a plastic Ziploc bag and put them in the refrigerator the day before.
We rarely are able to think this far ahead, so the method we use most is thawing in a bowl of cool water (not hot). I put the chicken wings in a bowl, then cover with cool water and place in the refrigerator. This method usually only takes an hour or two.
Can I cook frozen wings in the air fryer (or anywhere for that matter)?
I wouldn't suggest cooking straight up frozen wings. Chicken is one of the meats that MUST be cooked thoroughly to prevent food poisoning. It should reach an internal temperature of 165°F to be considered safe to eat.
If you try to cook frozen wings, the outside will cook quicker than the inside, and will most likely leave you with an uncooked center. If you cook it more to get the inside to the correct temperature, the outside will overcook.
If you want to try precooked frozen chicken wings in the air fryer, I would still suggest making sure they are thawed completely. I wouldn't choose these for myself, since the skin most likely won't get as crispy, and the inside may not be as moist.
My air fryer
As I mentioned above, I got my air fryer a while ago for Christmas. It's a good starter air fryer
and I would suggest it for newbies. The only issue I had was the small clip that keeps the basket latched on to the drip pan part broke pretty quickly. It wasn't a huge issue, but a bit of an annoyance.
Now that I am a more experienced air fryer user, I have my sights set on a newer, fancier one.
I really want one with shelves, so I can make MORE chicken wings at once! (And for other reasons also.)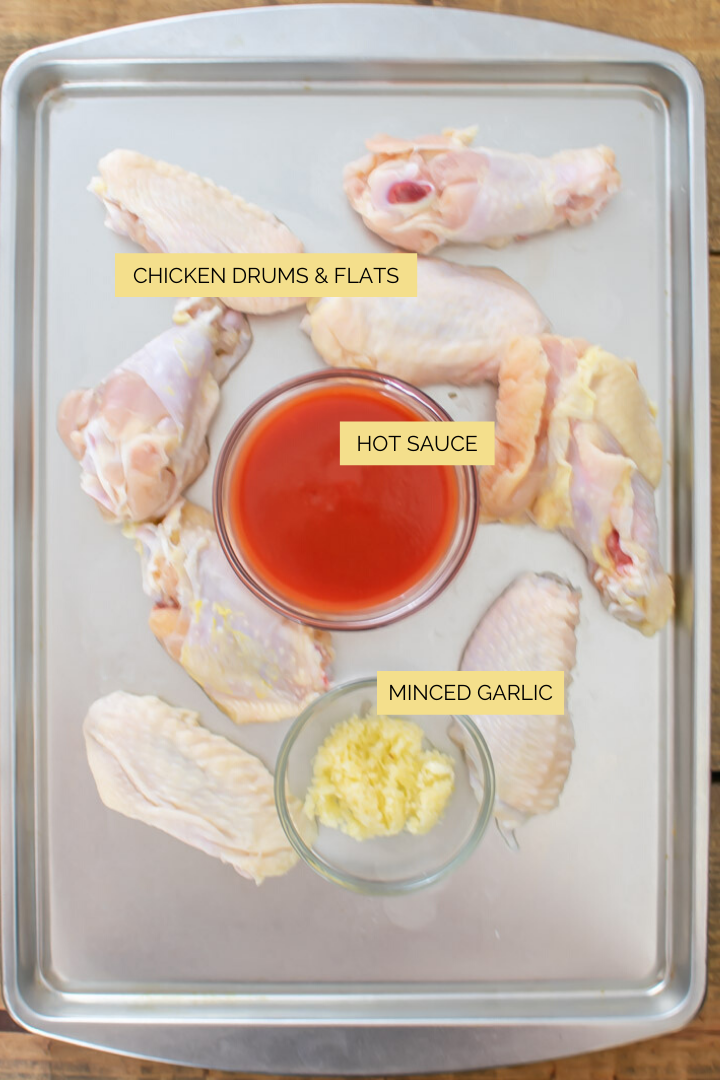 Other sauce and flavor variations / recipes
This recipe which is our favorite, is really very simple and basic, and quite spicy. It's a simple mixture of hot sauce and fresh minced garlic. The crispy air fryer wings are really what is the star of the show. BUT, you can use so many other sauces and flavors with the same basic air fryer cooking technique.
Medium Garlic Wings - the same recipe, but change the hot sauce to ¼ cup and add 2 tablespoons of melted butter
Mild Garlic Wings - the same recipe, but change the hot sauce to 2 tablespoons and add 2 tablespoons of melted butter
Hot Honey Garlic Wings - substitute honey for the hot sauce
Any Other Hot Sauce - we like to use Frank's hot sauce, but you can use tabasco, sriracha or any other favorite hot sauce. My Pineapple Ghost Pepper Hot Sauce is a super spicy, tasty option!
Garlic Butter Chicken Wings - omit the hot sauce and add ¼ cup of melted butter, ½ tablespoons of minced fresh garlic and ½ tablespoon dried parsley. Add 2 tablespoons of Parmesan cheese and you will have Garlic Parmesan Wings. Add 2 tablespoons of hot sauce back, and you will have Hot Garlic Parmesan Wings.
Dry Rub - this is basically adding any dry seasoning. I like to add dry rubs BEFORE cooking in the air fryer. Make sure the wings are completely dry (I use paper towels) and toss in any dry seasoning before putting them in the air fryer. Mine and my son's favorite is a dry Jamaican jerk seasoning. My husband loves mesquite seasoning.
Four simple steps to cook hot garlic wings in the air fryer (are these even really steps??)
Add wings to air fryer basket. Do not stack on top of each other. If you have more than will fit in a single layer, cook in separate batches.
Place basket in air fryer.
Turn heat to 400°F.
Cook for 22 minutes or until internal temperature is 165°F.
How to make this recipe
After the chicken wings are done, place in a mixing bowl and add the hot sauce and fresh minced garlic, and toss. Serve with blue cheese or ranch dressing.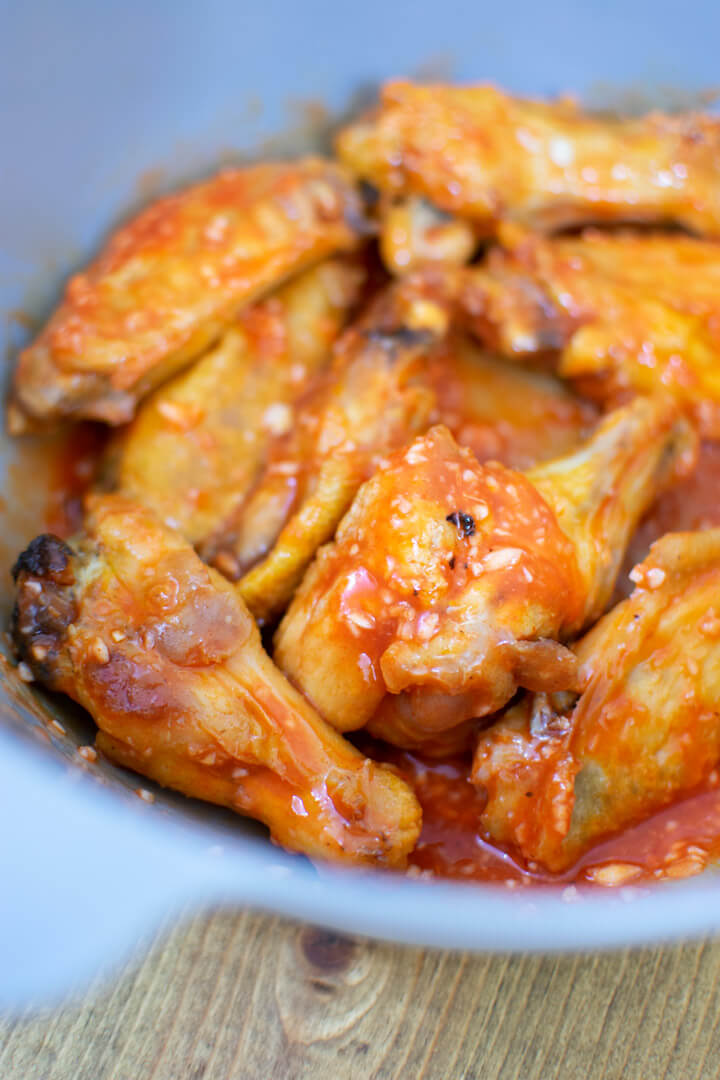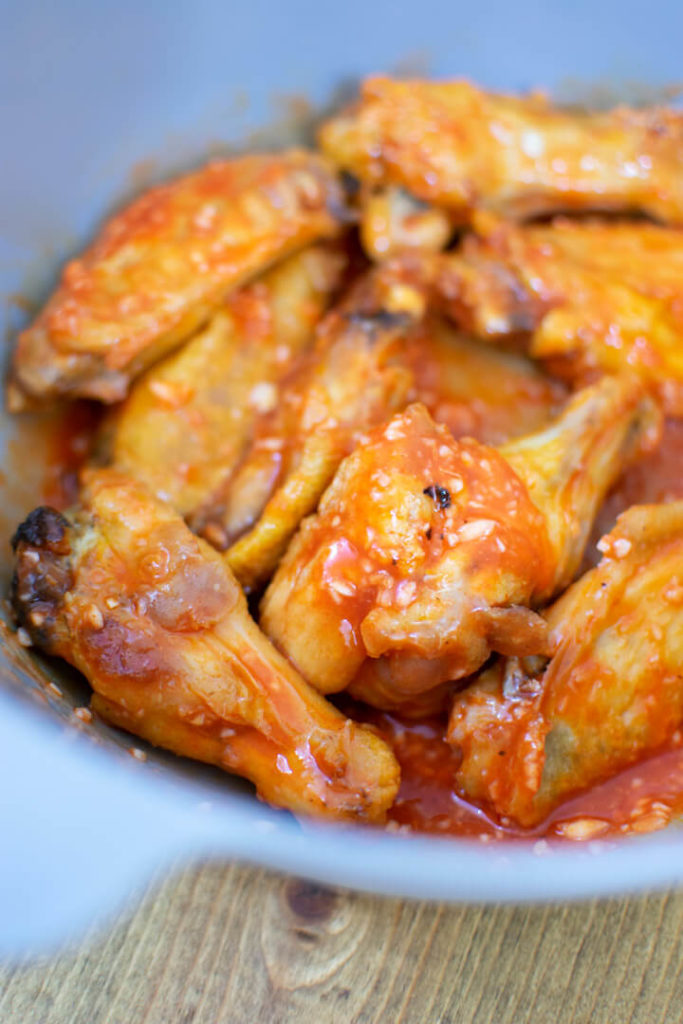 📋 Recipe
Hot Garlic Air Fryer Chicken Wings
Hot Garlic Air Fryer Chicken Wings is the perfect, healthy game day food with tons of heat and flavor. The chicken wings get super crispy in the air fryer, and will completely ruin you for ordering takeout wings ever again!
Print
Pin
Rate
Ingredients
1

pound

chicken wings

split into flats and drums

⅓

cup

hot sauce

½

tablespoon

fresh garlic

minced
Instructions
Dry chicken wings thoroughly with paper towels.

Add in single layer in air fryer basket or shelf.

Cook at 400°F for 22 minutes, or until internal temperature reaches 165°F.

While chicken is cooking, finely mince garlic, or push through a garlic press.

Add cooked chicken to a mixing bowl. Add hot sauce and fresh garlic and toss.
Notes
Make sure chicken wings are completely thawed before cooking.
I like to use Frank's Hot Sauce, but you can use any hot sauce you like.
Serve wings with blue cheese or ranch dressing and celery sticks.
Nutrition
Serving:
0.5
lb
|
Calories:
279
kcal
|
Carbohydrates:
1
g
|
Protein:
23
g
|
Fat:
20
g
|
Saturated Fat:
6
g
|
Cholesterol:
94
mg
|
Sodium:
1147
mg
|
Potassium:
249
mg
|
Sugar:
1
g
|
Vitamin A:
245
IU
|
Vitamin C:
31
mg
|
Calcium:
15
mg
|
Iron:
1
mg
Hot Buffalo Garlic wings are the perfect appetizer to serve for a game day or on Super Bowl Sunday. If you're looking for other game day recipes, check out my Pretzel Dogs with Beer Cheese Dip or make yourself an over-the-top charcuterie board!
If you're just serving these for dinner or lunch, serve them with my Zesty Italian Pasta Salad.