This post may contain affiliate links. Please read my disclosure.
Easy Homemade Almond Hummus is a tasty switch up to a traditional hummus, using almonds instead of the usual tahini. Learn how to make hummus from scratch! Serve with toasted baguette slices, pita chips or fresh veggies for a healthy, nutritious snack.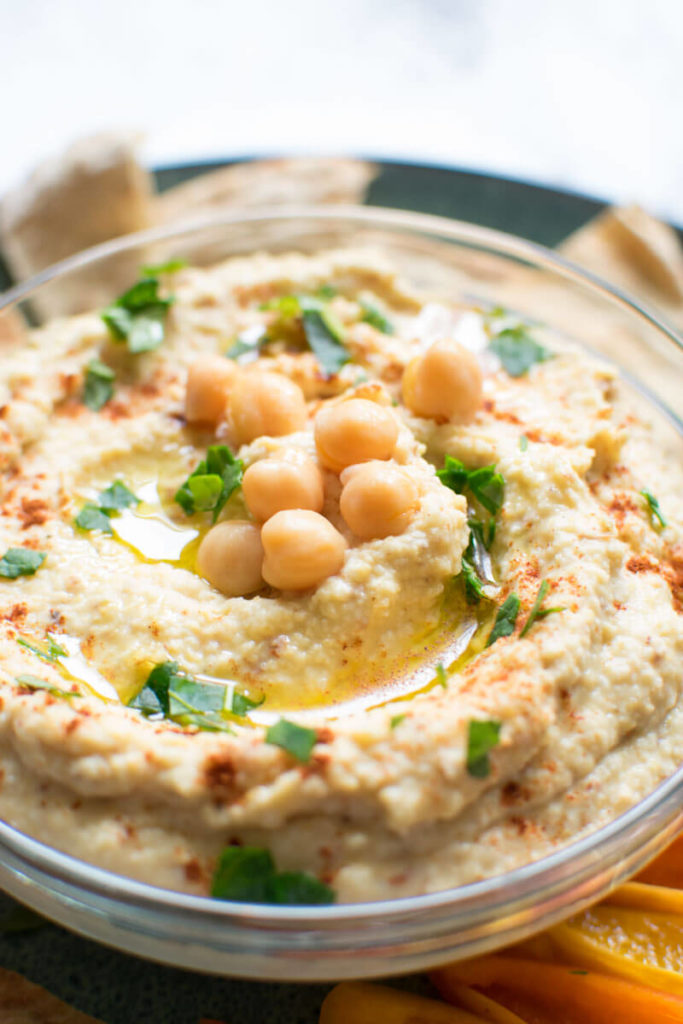 I recently had lunch out at a trendy cafe that serves all kinds of healthy and unique dishes with all local and sustainable ingredients. Lots of dishes with kale, beets, micro greens and the like. And they make all of this stuff taste REALLY good. They have magic powers.
So I ordered a chicken burger and one of my options was a side salad, which I ordered. I didn't even really know what it was, but after it came, I realized it was one they have on the menu as an entree.
This little side salad was UNBELIEVABLY good. I inhaled it, and it made my chicken burger seem so blah.
So why am I talking about this side salad I had for lunch in my recipe post about almond hummus? The inside of the salad bowl was coated with said almond hummus, which was one of the reasons it was so damn tasty!
This recipe is inspired by my tiny, baby side salad. I had to try to recreate it with this hummus recipe, and I think I got pretty close. I also will post my creation of the salad dressing, and then finally the total salad.
It really is worth making hummus from scratch. I promise!
Ingredients And Tools Used
Making homemade hummus is quite easy and simple. What is hummus made of?
chickpeas (or garbanzo beans)
raw almonds
garlic
fresh lemon juice (don't use the bottled stuff!)
extra virgin olive oil
salt and pepper
You do need to use a food processor to get the smooth consistency that you want for hummus. The one I have is actually really old and I received it as a hand-me-down. It's really ugly and I'm secretly wishing for it to die. But it keeps on, and on, and on.
I'm hoping to upgrade to this Cuisinart one, but again I'm just waiting for mine to kick the bucket. I may just have to bite the bullet and make the switch, since I really think this one has been alive and kicking since 1975 based on the color scheme. And it's probably not going to give up any time soon.
How Can I Make Homemade Hummus Without A Food Processor
You could also make this with a blender, but it may be harder to get a lot of it out of the bottom. You will also need to scrape down the sides frequently to make sure everything gets down to the bottom to get blended in. If that's all you have, you can make it work.
If it's too thick and not blending well, add the juice from the chickpeas a teaspoon at a time to help with blending.
Tips And Tricks
Canned chickpeas are preferred when making hummus, since they have more water in them and will give a creamier consistency. The dried chickpeas do better for things like falafel (a future recipe I'm also working on) since they don't have any water in them.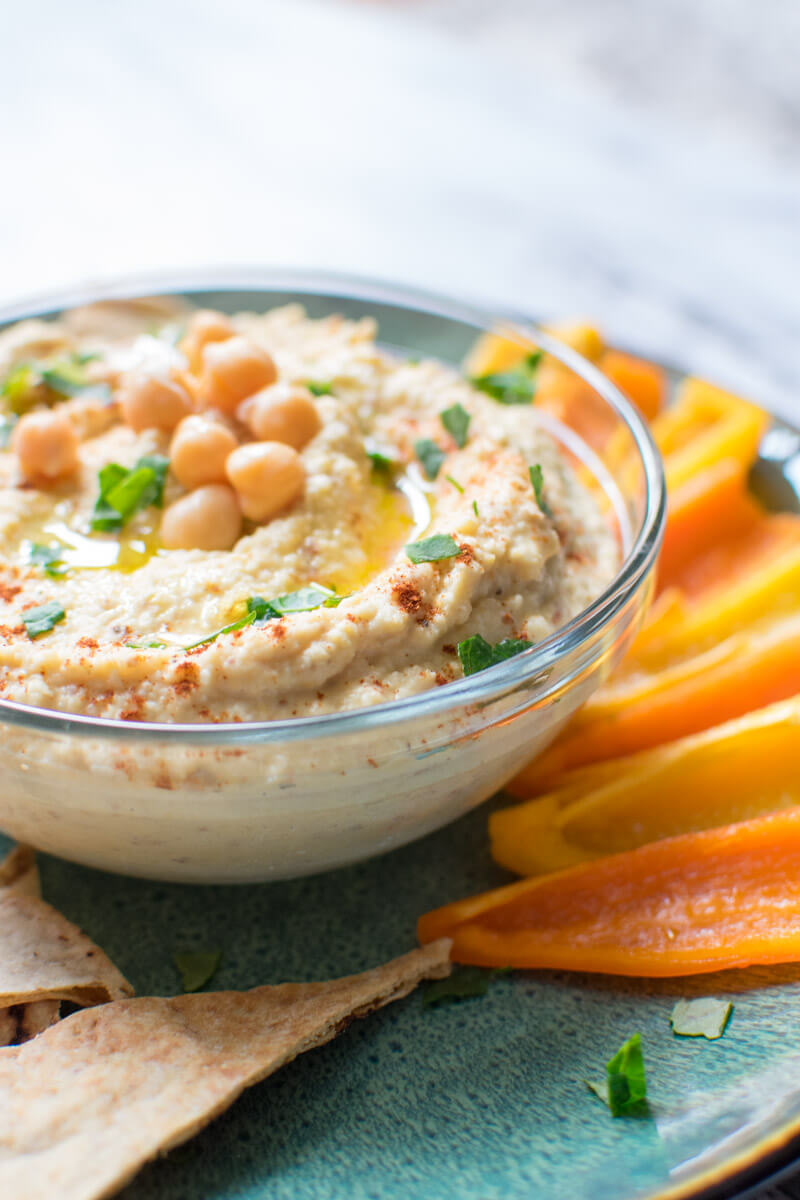 Also, when draining the chickpeas, remember to save the water that's in the can. This is good to add to the hummus if it's too dry when blending. If you throw it out, you'll have to use water, which has no flavor. The water from the chickpeas has lots of flavor. You don't want to add bland liquids to the hummus!
Using almonds instead of the traditional tahini is not only a tasty change-up, but a more cost effective one, as tahini can be pretty pricey. Sometimes its hard to find it in regular stores, and you may have to look for it in a high-end grocery store such as Fresh Market, Whole Foods or Trader Joes. The problem I always have is, I make hummus and buy the tahini, then I don't make it again for a long time and the whole rest of the jar of tahini goes bad.
I also highly suggest using fresh lemon juice instead of the stuff in the plastic bottles. It's just so easy to get fresh juice and you know what's there....lemon juice. What's in those bottles is questionable, and definitely not fresh. Fresh ingredients are always preferable and will give your food better flavor. If you're spending the time to make your food, make it good food!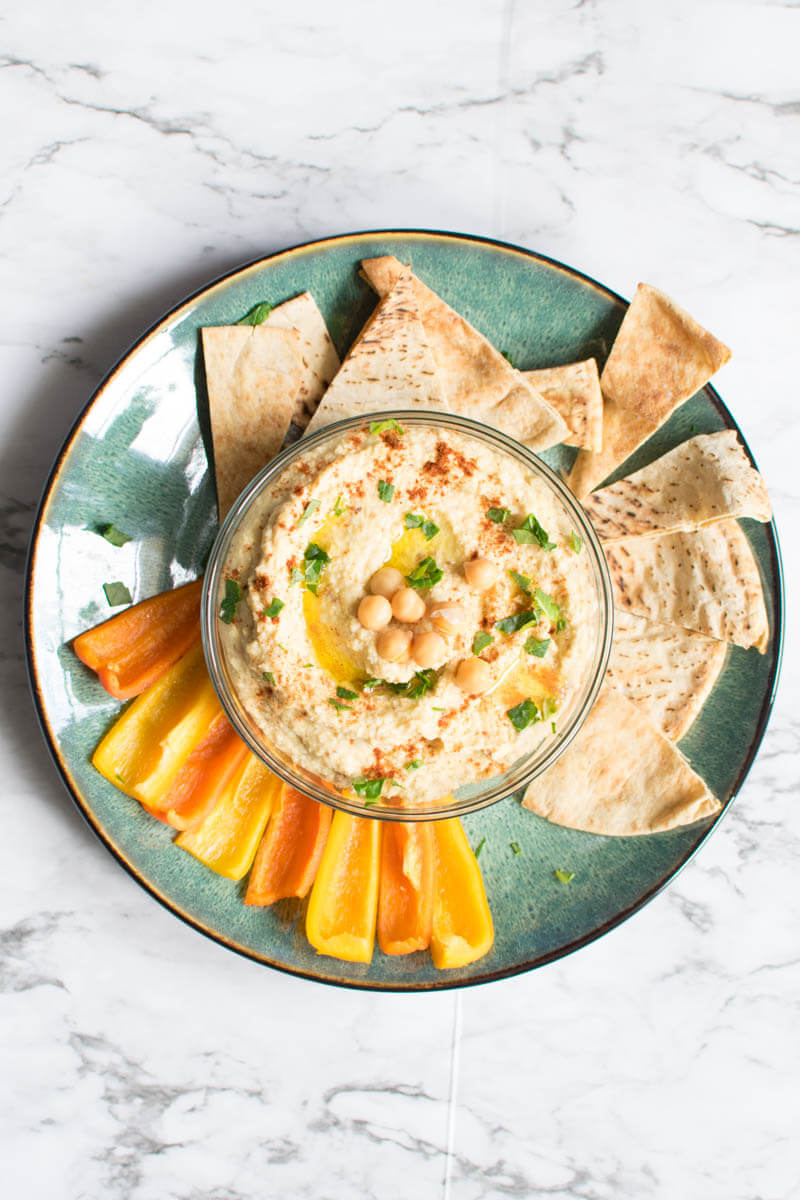 Is Almond Hummus Low Carb, Gluten Free, Vegan, Paleo, Dairy Free?
While chickpeas are generally not allowed on low carb or keto diets, this recipe does only have 10 carbs per serving. It does come in a bit lower in carbs than most hummus recipes, due to the replacement of the tahini with almonds. Depending on how many carbs you're allowed in a day, this could fit into many low carb meal plans.
If you are following a gluten free diet, this is for you! It is also vegan as well. Anyone eating paleo, unfortunately, this will not fit your diet due to the chickpeas.
If you're also asking is there dairy in hummus, the answer is no! There is no dairy in this recipe, and usually none in any hummus recipe.
Even if you're not on some sort of diet or meal plan, eating hummus is super good for your body due to the many benefits of eating chickpeas. You can't go wrong!
📋 Recipe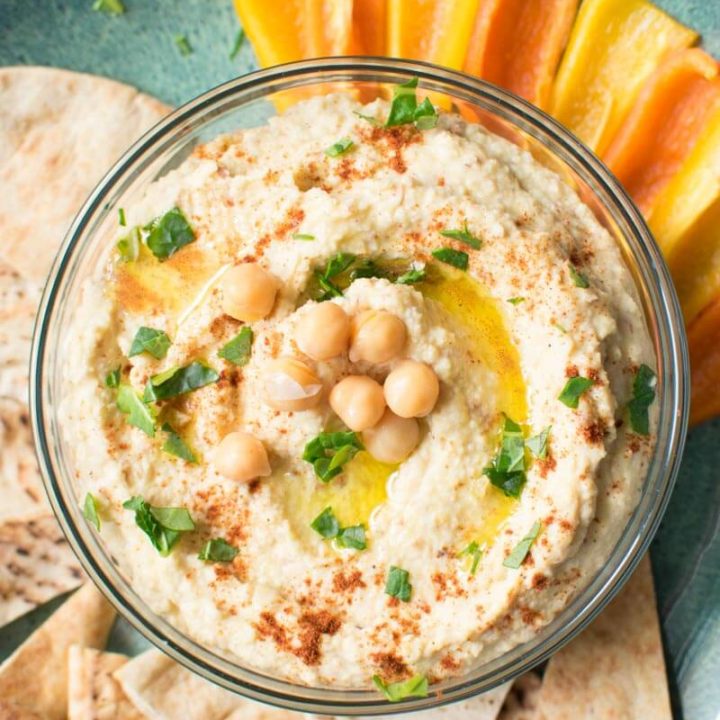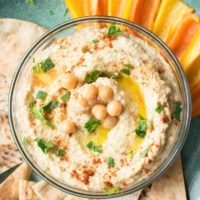 Easy Homemade Almond Hummus
Easy Homemade Almond Hummus is a tasty switch up to a traditional hummus, using almonds instead of the usual tahini. Learn how to make hummus from scratch! Serve with toasted baguette slices, pita chips or fresh veggies for a healthy, nutritious snack.
Print
Pin
Rate
Ingredients
15.5

ounces

chickpeas

canned

½

cup

raw almonds

sliced

2

cloves

garlic

3

tablespoons

lemon juice

2

tablespoons

extra virgin olive oil

½

teaspoons

salt

¼

teaspoons

black pepper
Instructions
Drain chickpeas and reserve liquid. Keep a few of the chickpeas for garnish at the end.

Add chickpeas to a food processor with the almonds, garlic, lemon juice, salt and pepper.

Turn on food processor and slowly add in olive oil. Occasionally scrape down the sides of the bowl.

Add reserved chickpea liquid until you get your desired consistency. I used 5 Tbsp.

Taste and add any extra salt and pepper as needed.
Notes
Makes 1 ¾ cups.
A serving is 2 tablespoons.
Make sure to save the water from the can of chickpeas to thin out the hummus if it's too thick. It has WAY more flavor than water.
Nutrition
Serving:
0
g
|
Calories:
100
kcal
|
Carbohydrates:
10
g
|
Protein:
4
g
|
Fat:
5
g
|
Saturated Fat:
1
g
|
Polyunsaturated Fat:
0
g
|
Monounsaturated Fat:
0
g
|
Trans Fat:
0
g
|
Cholesterol:
0
mg
|
Sodium:
85
mg
|
Potassium:
131
mg
|
Fiber:
3
g
|
Sugar:
2
g
|
Vitamin A:
8
IU
|
Vitamin C:
2
mg
|
Calcium:
30
mg
|
Iron:
1
mg
If you like making homemade dips, check out my Quick Homemade Southern Pimiento Cheese recipe. It's creamy, tangy and delicious!
Or, if you're just on a healthy kick and are looking for a few more ideas to help you stay on track, check out my Healthy Options section for some yummy recipes!